Hey y'all!!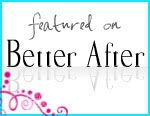 I'm so excited to be featured at
Better After!
If you are popping over from Better After, welcome to Brandi Nell the Southern Belle!! We are so happy you are visiting! Here, you can follow "the hubs" and I in our adventures in "fixin' up our home." We have tons of fights fun working on the house. It is definitley a labor of love. Click
here
to read more about our home and about the blog!For all of you new visitors, I hope that you'll become a friend and visit often! Don't forget to send me links to YOUR blogs as well!
Looking forward to making new friends and reading new comments! I love love love seeing YOUR projects too! If you have a project you would like to share with me, please email them to me at
Brandi.Wigley@Gmail.com
Talk soon friends!
xoxo,
Brandi Nell